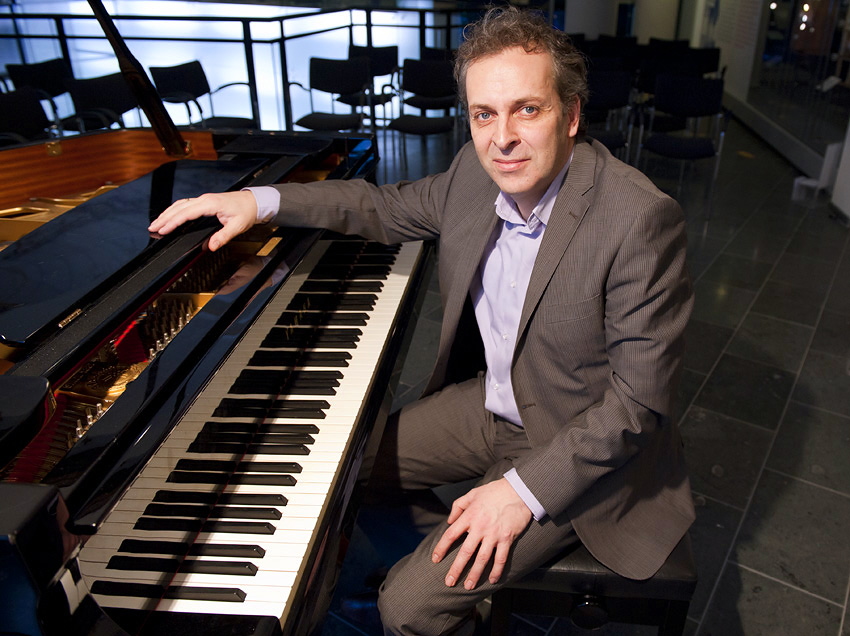 Frederic Voorn is active in several musical areas. He is a concert pianist, a composer and makes programs for Dutch Radio 4. He is the conductor of four choirs, writes articles for several magazines and also a book about the history of pianos and pianists.
As a pianist, Frederic Voorn has given many concerts. He was a laureate of the Frank Martin International Music Competition and was invited to perform at several international music festivals (Tibor Varga Festival in Sion, Switzerland, Grand Piano Festival in Amsterdam, Antverpiano in Antwerp, Prague Spring Festival, Scarlatti Festival and Geelvinck Pianoforte Festival in Amsterdam, International Festival of Chamber Ensembles in Kazan, Tatarstan, Nordic Historical Keyboard Festival in Kuopio, Finland, Landjuweel Festival in Ruigoord, Amsterdam Virtuosi, Grachtenfestival and Pianola Festival in Amsterdam). In 1996 a CD with sonatas by Domenico Scarlatti appeared at Breeze Records, and in 2007 he contributed to a CD with music by the Danish composer Hans Christian Detlefsen. In 2012, a new CD appeared at Ezra Records, titled: Music Box. This album is a small anthology of three centuries of piano music. In 2013 he recorded five sonatas by Joseph Haydn for the same label. The CD The Art of the Nocturne was released late 2014 and a CD with his own piano compositions appeared in 2016.
Frederic Voorn has made concert tours all over the world (Switzerland, America, Canada, Russia, Finland, Belgium, Thailand, England, Sweden, Spain, Liberia, Italy) and gave concerts in major halls like the Tonhalle in Zürich and the Concertgebouw in Amsterdam. On a regular basis he gives concert lectures, such as on Impressionism or on Beethoven's early piano sonatas. Frederic Voorn was a soloist with several orchestras, such as the Messiah Festival Orchestra, The State Symphony Orchestra of Azerbeijan, the Europe Pride Festival Orchestra and the St. Michael Strings. He performed with conductors like Howard Williams, Fayik Mustafaev, Lyndsay Smith and Nikke Isomöttönen. Frederic Voorn gave masterclasses in several countries (America, Canada, Finland, Russia) and was member of the jury at the 8th Concours International de Piano Adilia Alieva in Gaillard, France, the Amsterdam Student Festival, Koffie bij de Piano in Den Bosch, the 3e Square Piano Competition and the International Geelvinck Fortepiano Competition in Amsterdam.
As a composer, Frederic Voorn has written a small amount of works that are performed regularly. In 2005 he composed a series of piano pieces titled:  Pièces simples et naturelles and in the same year he wrote Ezra's Journey, a short piece for orchestra. A year later, his String Quartet appeared, which was premiered in America in 2008. The Caprice for violin and piano was written in 2007 and premiered in the same year. For Babylon, a Dutch chamber choir, he has composed several pieces. The  Zwei Goethe Lieder from 2009 were perfomed several times and the song Die Gedanken sind Frei was premiered in 2012 in the Hermitage of Amsterdam. In 2014 Frederic Voorn composed his madrigal  Zefiro torna, on a poem by the Italian Renaissance poet Ottavio Rinuccini. in 2015 he wrote the Suite La forêt perdue for piano and a year later parts of his opera Diaghilev, on a libretto by Lucas van der Hut, was staged in Amsterdam. In 2017, the Piano Sonata and Three Pieces for String Orchestra were premiered.
Since 1997, Frederic Voorn has been making programs for Dutch national radio. He worked for NTR Radio (ZaterdagMatinee, De Bedding), VPRO Radio (Het Middagconcert, Urubicha) and for the Concertzender. Every Saturday, from 2001 till 2013, he made Pianistenuur for VARA Radio.
From 2006 on, Frederic Voorn is conductor of the men's choir Cantiflora in Hillegom and of the chamber choir Babylon. Since 2010 he is conductor of The Moclas Singers in Huizen and since 2012 of the Media Omroep Koor in Hilversum. As a writer he contributes regularly to Akkoord Magazine, Piano Wereld Magazine and for the Journal of the Franz Liszt Kring
Frederic Voorn studied piano at the conservatories of Amsterdam and Utrecht with Jan Marisse Huizing, Jan Wijn and Hakon Austbö. After receiving his Diploma Performing Arts he continued his studies in London with Peter Feuchtwanger and in Moscow with Lev Naumov and Youri Levin. Frederic Voorn is artistic advisor to the Festival Winteravonden aan de Amstel, the Geelvinck Pianoforte Festival and he is a member of the Board of the Franz Liszt Kring. He lives in Amsterdam, is married and has two sons.