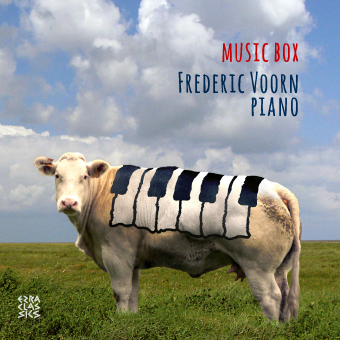 Music Box is a small anthology of three centuries of piano music. This CD consists of well and lesser known miniatures from the piano literature: from Johann Sebastian Bach to the Sarabande by Frederic Voorn.
Music Box can be purchaced in EU countries for € 17,– (international postage included). If you send this amount with your name and address to IBAN nr. NL50INGB0000188367, (swift code = Bic INGBNL2A) attention to F.T.C.G. Voorn, we will mail you the CD as soon as possible. If you are in a non-euro country, you can pay by paypal. Please send us a mail for further details.
In September, Music Box was Album cover of the week at Sinfini Music. www.sinfinimusic.com/uk
Some quotes from reviews:
…..'Frederic Voorn is a uniquely versatile musician: choir director, author, radio program maker, pianist and composer. On his CD Music Box he gives a chronological anthology of three centuries of piano literature. he plays short works, beginning with Bach and by way of Chopin and Satie, ending with Prokofiev and Milhaud. Also one of Voorn's own composition is to be heard: Sarabande. Because this CD covers such a broad spectrum, it is especially well suited for those who are not yet so well acquainted with the piano idiom of different style periods.'
from Akkoord Magazine nr. 50
…..'CD Music Box, warmly recommended! An original CD with many musical gems, sometimes known but often unknown repertoire from three hundred years of piano music.'
from Piano-instituut
Music Box speellijst:
1   Déodat de Séverac               – Où l'on entend une vieille boite à musique         
2   Johann Sebastian Bach         – Inventio # 6 BWV 777                       
3                                             – Sinfonia # 5 BWV 791
4   Jacques Duphly                    – Rondeau La Pothoüin
5   Ludwig van Beethoven          – Bagatelle WoO 56
6                                             – Bagatelle op. 33 # 4
7   Franz Schubert                     – Allegretto D. 915
8   Franz Liszt                           – Eglogue
9   Frédéric Chopin                    – Nocturne KK IVb # 8
10 Johannes Brahms                 – Intermezzo op. 116 # 4 (soundbite)
11 Bedrich Smetana                  – Polka op. 8 # 2
12 Erik Satie                             – Nocturne # 1
13 Claude Debussy                    – Valse La plus que lente (soundbite)
14 Sergei Prokofiev                    – Lily Dance of the Maidens
15                                            – Vision Fugitive # 1
16                                            – Vision Fugitive # 6
17                                            – Vision Fugitive # 10 (soundbite)
18 Dmitri Shostakovich              – Prelude op. 34 # 10
19                                            – Prelude op. 34 # 15
20                                            – Prelude op. 34 # 16
21 Frederic Voorn                      – Sarabande
22 Darius Milhaud                      – Romance
.
Music Box liner notes:
This album is a small anthology of three centuries of piano music. Music Box consist of 22 miniatures in different styles. The title refers to the first piece on the CD: Où l'on entend une vieille boite à musique, and this old music box by Déodat de Séverac (1872-1921) comes from his En vacances, Petites pièces romantiques.
After this, the CD follows a more or less chronological path. The Inventio and Sinfonia by Johan Sebastian Bach (1685-1750) appeared for the first time in 1720 in the Klavierbüchlein für Wilhelm Friedemann Bach, his eldest son. Just like Bach, the French composer Jacques Duphly (1715-1789) was a child of his time: a time in which the harpsichord was omnipresent and the piano was on the rise. Duphly died one day after the storming of the Bastille, which signaled the start of the French Revolution. Around the same time, the harpsichord was being replaced by the piano. Jacques Duphly composed his Rondeau La Pothoüin in 1768. The title refers to one Pierre-Salomon Pothoüin, avocat au Parlement de Paris.
With Ludwig van Beethoven (1770-1827) and Franz Schubert (1797-1828) we have definitely reached the age of the piano. The two Beethoven Bagatelles were written in the first years of the Nineteenth Century.Schubert dedicated his Allegretto from 1827 to his good friend Ferdinand Walcher. This Allegretto was published only after the death of the composer.
The Romantic era is being represented here by Liszt, Chopin, Brahms and Smetana. Eglogue by Franz Liszt (1811-1886) comes from his Années de Pèlerinage. The Nocturne in C minor by Frédéric Chopin (1810-1849) was written in 1837, but was only published in 1938. The Intermezzo op. 116 # 4 by Johannes Brahms (1833-1897) is a late work. In the years before his death and after an absence of 13 years, Brahms returned one more to the piano as a solo instrument. The Polka in G minor by Bedrich Smetana (1824-1884) is an early work and was published in 1855.
Erik Satie (1866-1925) was one of the most excentric composers of his time. The Nocturne from 1919 belongs to the last piano pieces he wrote. The innovator Satie had a lot of influence on other composers, like his friend Claude Debussy (1862-1918). Debussy's Valse La plus que lente was written in 1910, directy after the completion of his first book of Preludes.
Several pieces can be heard by the Russian composers Sergei Prokofiev (1891-1953) and Dmitri Shostakovich (1906-1975). Lily Dance of the Maidens is part of Prokofiev's ballet Romeo and Juliet and he wrote his Visions fugitives between 1915 and 1917. At his own concerts, Prokofiev often gave one of his Visions as an encore. The Preludes op. 34 by Shostakovich were written in Leningrad during the winter of 1932 – 1933. Some of these Preludes were later adapted for violin and piano.
The Sarabande by Frederic Voorn (1962) was composed in 2005 and comes from his Pièces simples et naturelles. This album ends with the Romance from Trois rag-caprices by Darius Milhaud (1892-1974), written in 1922. A piece clearly influenced by jazz.
.
EZRA CLASSICS EC 031101