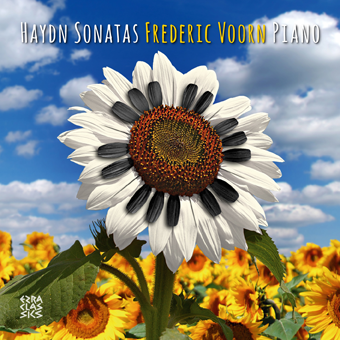 On this CD, released in 2013, there are five sonatas by Joseph Haydn, written between 1765 and 1776. These sonatas are very different by nature – from intimate to extremely brilliant – and they give evidence of Haydn's versitality.
The CD can be purchaced in EU countries for € 17,– (international postage included). If you send this amount with your name and address to IBAN nr. NL50INGB0000188367, (swift code = Bic INGBNL2A) attention to F.T.C.G. Voorn, we will mail you the CD as soon as possible. If you are in a non-euro country, you can pay by paypal. Please send us a mail for further details.
Quotes from a review:
…..'In five well-chosen sonatas, Frederic Voorn varies with touch, articulation, dynamics, use of pedal and embellishments. Both pedals are used for colour, repeats are enriched by stylish extra variations and embellishments, rests are full of expectations and here and there tempos are played deliberately in a flexable way.'
from Piano Wereld Magazine 2014 nr. 2
Haydn Sonatas playlist:
Sonata in G minor Hoboken XVI:44 (soundbite)
Sonata in A-flat major Hoboken XVI:46 (soundbite)
Sonata in E major Hoboken XVI: 31
Sonata in B minor Hoboken XVI:32
Sonata in E minor Hoboken XVI:47
Haydn Sonatas liner notes:
"I was completely cut off from the world. There was no one to confuse or torment me, and I was forced to become original."
.
Thus spoke Franz Joseph Haydn (1732-1809) about his lenghty employment with the Esterházy family. From 1761 on, he lived for almost thirty years at Schloss Esterházy in Eisenstadt, Austria, and in the Esterháza Palace, just over the Hungarian border. These were not quite the musical centers of the world, but it was in this glorious isolation that Haydn was able to render a paramount contribution to the symphony, the string quartet and also to the piano sonata. Almost unnoticed, he evolved from the best kept musical secret in the Austro-Hungarian Empire to the position of most prominent composer in Europe. He was even more famous than Mozart, something that Haydn himself totally disagreed with.
Joseph Haydn was a tranquil man and most part of his life was quite uneventful. Only after his death did he lose his head. A few days after his funeral, phrenologists stole Haydn's head from the grave. In this way these phrenologists, a pseudoscience that focuses on measurements of the human skull, hoped to discover the secret of Haydn's genius. It took 145 years for skull and bones to be reunited again.
But however tranquil Haydn's life might have been, his piano sonatas are very adventurous and energetic. It was no secret that Haydn was strongly influenced by Carl Philipp Emanuel Bach, Johann Sebastian's second son, who's book Versuch über die wahre Art das Clavier zu spielen was a must for every aspiring composer of the 18th century.
The five sonatas on this CD were written between 1765 and 1776. At the time Haydn was between 33 and 44 years old and quietly going on his way to eternal glory. The Sonata in G minor Hoboken XVI:44 only has two movements, instead of the usual three. It is also one of the few sonatas written in a minor key. The following Sonata in A-flat major Hoboken XVI:46 was designed on a much larger scale and has the usual fast-slow-fast sequence. That is certainly not the case with the Sonata in E minor Hoboken XVI:47. In this work the movements are placed in an unusual order. The sonata begins with a solemn Adagio in E minor and is followed by an Allegro in E major. It ends with a kind-hearted Tempo di Menuet. Much later, in 1788, this work was published as a Sonata in F major, but then with a new first movement and without the minuet at the end. In this way the usual order fast-slow-fast was recovered, although the earlier version that is played here is much more adventurous. The Sonata in E major Hoboken XVI:31 and the Sonata in B minor Hoboken XVI:32 were written later and belong to a series of six sonatas that appeared in 1776. The last movement of the B minor Sonata might have been a model for the finale of Beethoven's Sonata op. 10 # 1.
In 1794, Haydn wrote his last of more than 50 piano sonatas. Although he lived on for another 15 years, he left further development of the piano sonata to his former pupil, Ludwig van Beethoven.
.
EZRA CLASSICS EC 290846